Written by Zev on April 19, 2009 – 10:49 pm -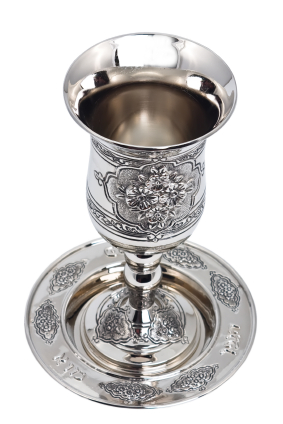 On Friday night, when the Sabbath begins, the Kiddush ceremony is carried out before sitting down to the Sabbath meal.
Kiddush, literally meaning  "sanctification", is a blessing recited over wine or grape juice to sanctify the Shabbat or a Jewish holiday. The Torah refers to two requirements concerning Shabbat – to "keep it" and to "remember it" (shamor and zakhor). Jewish law therefore requires that Shabbat be observed in two respects. One must "keep it" by refraining from thirty-nine forbidden activities, and one must "remember it" by making special arrangements for the day, and specifically through the Kiddush ceremony.
Reciting Kiddush before the meal on the eve of Shabbat and Jewish holidays is thus regarded as a commandment from the Torah (as it is explained by the Oral Torah). Reciting Kiddush before the morning meal on Shabbat and holidays, however, is a requirement of rabbinic origin. Kiddush is not usually recited at the third meal on Shabbat, although Maimonides was of the opinion that wine should be drunk at this meal as well.
The term Kiddush is also used to refer to a ceremonial meal served at a synagogue following the recitation of Kiddush at the conclusion of services, in which refreshments are served. Traditionally, this often includes cake, crackers, and fish.
Tags:
kiddush
,
shabbat
Posted in
Judaica
|
No Comments »