Written by Zev on September 23, 2008 – 12:27 am -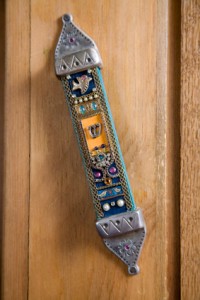 A Mezuzah is a rectangular case that you often see mounted on the door frame of a Jewish household or Synagogue. Inside the case is a hand-scribed Hebrew parchment containing the words of the main Jewish prayer, the Shema.
The commandment to install Mezuzahs is derived from a sentence in the Shema that states – "Thou shalt write them [the words of the Shema] on the doorposts of your house and upon your gate".
Mezuzah cases are made from all sorts of materials including base metals, silver, gold, plastic, wood and ceramics. They are usually mounted diagonally for the interesting reason that religious scholars are divided over whether the desired mounting should be horizontal or vertical.
Many Jewish families have a single Mezuzah on their front door. In more observant households, there may be one on the entrance to every room except bathrooms.
The following video demonstrates how to mount a Mezuzah, including the insertion of the parchment and the correct prayer to recite:
References:
Tags:
mezuzah
Posted in
Judaica
|
No Comments »