Written by Zev on April 13, 2009 – 1:54 pm -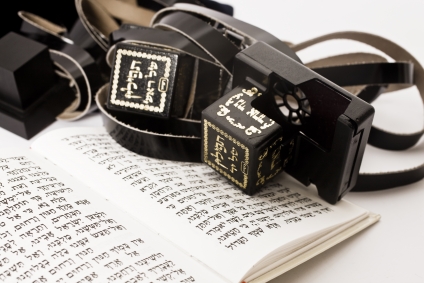 The donning of Tefillin represents for Jewish people probably the most sacred and important tie that binds them to their religion and God. They have been worn by Jews for thousands of years. In the early Talmudic times, they were worn all day. However in modern Judaism they are only worn during morning prayers.
The Tefillin consists of two cube-shaped leather boxes – one worn on the head and the other on the arm. Tefillin have leather straps that are fixed to them to allow them to be wound around the head and the arm. The tefillin's black boxes are known in Hebrew as batim or 'houses' in English. The boxes contain four Pentateuch passages.
According to the Torah, Tefillin are worn to remind Jews that God brought the children of Israel out of Egypt.
Tags:
prayer
,
tefillin
Posted in
Judaica
|
No Comments »