Written by Zev on November 25, 2008 – 12:00 pm -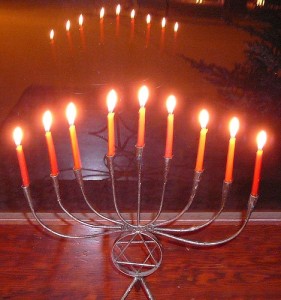 The Menorah is a candle holder (candelabra) that is lit during the 8-day festival of Hanukkah – "The Festival of Lights". Hanukkah takes place on the 25th Day of the Hebrew Calendar month of Kislev, which falls around Christmas time.
Hanukkah marks a divine miracle that occurred in the 3rd century BC, following the defeat of the Seleucid Empire and the recapture of Jerusalem by the Jewish Maccabee army.
During the Seleucid occupation, the Jewish temple in Jerusalem was converted into a Pagan temple. When the temple was recaptured by the Maccabees, it was rededicated as a Jewish place or worship. The rededication process required a large quantity of consecrated olive oil for the oil lamps, but only 1 day's worth was available. Through a miracle, the lamp burnt for 8 days by which time additional consecrated olive oil was prepared. That is why the festival lasts for 8 days.
The Menorah symbolises this miracle – it holds 8 candles, plus a separate candle known as the 'Shamash' that is used to light the others. On the first day of Hanukkah, a single candle is lit at sundown. On each successive day, an additional candle is lit. By the final day, all 8 candles are burning. The candles are ritually required to burn for a minimum of 30 minutes.
Many cities with significant Jewish communities honor this religious holiday by placing an electrically illuminated Menorah in a public square.
The following video demonstrates the correct procedure for lighting a Hanukkah Menorah:
Tags:
Hanukkah
,
menorah
Posted in
Festivals
,
Judaica
|
1 Comment »